The future belongs to the curious ones...
Heather Mills gives an exhilarating keynote speech at the Fifteen Seconds Festival Europe June 7-8, 2018
Heather Mills was invited as the keynote speaker to open Europe's leading interdisciplinary business festival in Graz, Austria at the 15 Seconds Festival Europe June 7-8, 2018.
Heather, speaking to a full house, talked about how she has pushed through incredible boundaries to become a successful Entrepreneur, Charity Campaigner, World Record Holder and Gold medal Paralympic Ski Racer, amongst many other achievements.
The main topic of her talk however was how she founded her multi award-winning plant based vegan ethical food company, VBites, which now exports to over 24 countries and has 104 products in its range.
Heather's speech was both uplifting and invigorating.
Afterwards Stefan Stücklschweiger said:
"It's safe to say that the fifth edition of Fifteen Seconds Festival was our most successful ever. Heather Mills did an incredible job holding the opening keynote in front of 5,000 curious minds and really triggering emotions with her unique story and strong, motivational statements. The feedback was impressive, thanks for joining us, Heather! "
Some of the followers of the event on social media said:
" I loved your speech. It inspired me a lot "
" I admire your out of the box thinking "
" Well done Heather, keep speaking up for the vegans "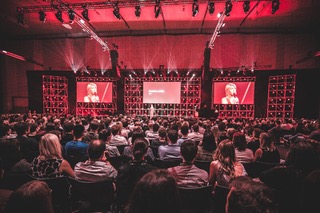 What started in 2014 as a contemporary marketing conference has then since grown into an interdisciplinary business festival gathering thinkers and makers from all around the world.
In 2017 more than 4100 curious minds attended the Fifteen Seconds Festival in Graz. This year the festival attracted numbers in excess of 5,000.
Heather was invited by the organisers to deliver a motivational keynote speech at this highly influential festival, in order to bring more awareness to a plant-based lifestyle.
Over 194 specially selected top speakers joined Heather this year.
The focus of this year's festival was Leaders, Solvers and Visionaries driving forward towards a positive change.
To read more about the festival, click